Val d'Elsa
"Val d'Elsa" "Valdelsa" Tuscany, Italy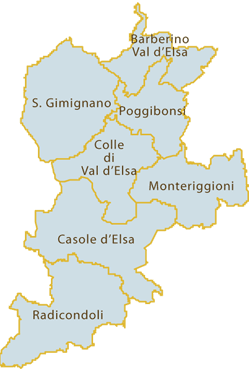 The Val d'Elsa (Valdelsa) - information
Although a great many of the towns of Tuscany in Italy are the famous "Tuscan hill towns", they are often defined in name and location by the valleys they overlook since it was and is through the valleys that lines of communication run. Near Florence, aside from the valley of the Arno itself, one of the most famous of these valleys is the Val d'Elsa (sometimes written Valdelsa), the valley of the River Elsa. The Elsa is 63 km long and rises in the Siennese Montagnola in the municipality of Sovicille from some springs in the neighbourhood of Pieve di Molli. The Elsa runs by Colle di Val d'Elsa, Poggibonsi, Certaldo and Castelfiorentino, and so flows into the Arno just west of Empoli. The valley is known as the Alta Val d'Elsa in the Province of Sienna and the Val d'Elsa in the Province of Florence, Italy.

Along some stretches of the Val d'Elsa there are marked riverside walking paths and the river itself forms part of the habitat of an interesting range of Val d'Elsa fauna.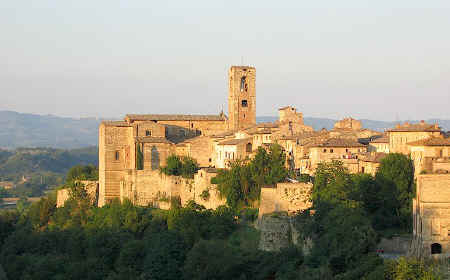 Colle di Val d'Elsa
The basin of the Elsa includes the following municipalities, in part or in whole:

• Barberino Val d'Elsa (Firenze)

• Casole d'Elsa (Siena)

• Castelfiorentino (Firenze)

• Castellina in Chianti (Siena)

• Castelnuovo Berardenga (Siena)

• Certaldo (Firenze)

• Colle Val d'Elsa (Siena)

• Empoli (Firenze)

• Gambassi Terme (Firenze)

• Montaione (Firenze)

• Monteriggioni (Siena)

• Montespertoli (Firenze) on the watershed between Val d'Elsa and Val di Pesa

• Poggibonsi (Siena)

• Radda in Chianti (Siena)

• Radicondoli (Siena) between the Val d'Elsa and the Val de Cecina

• San Gimignano (Siena)

• San Miniato (Pisa)

• Sovicille (Siena)

• Tavarnelle Val di Pesa (Firenze)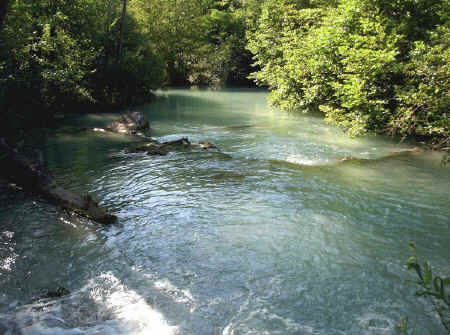 Fiume Elsa - River Elsa near Colle di Val d'Elsa
Val d'Elsa © ammonet InfoTech 2008 - 2020. All rights reserved.